My Experience Using Adaptogens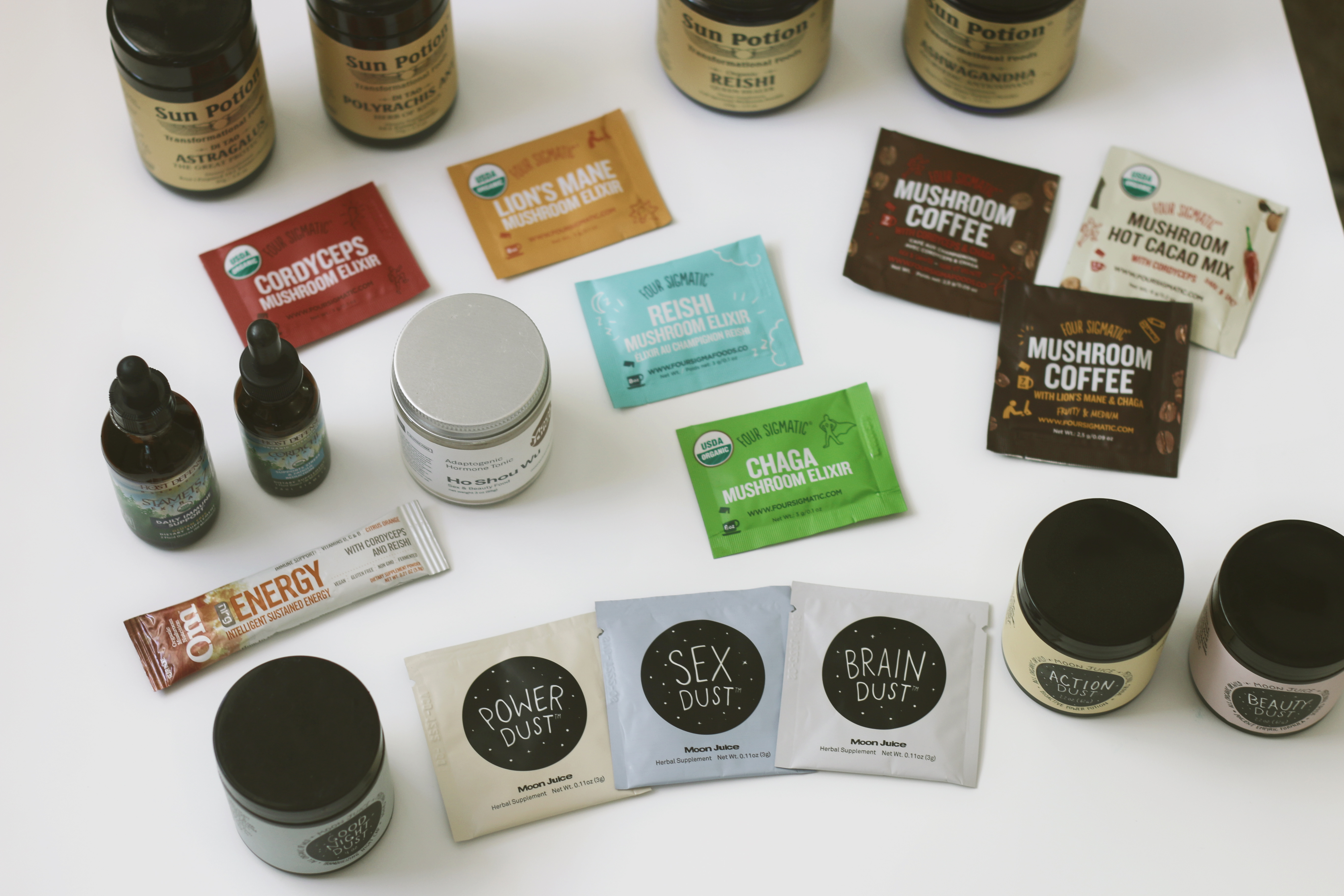 Here's a peek of what's in my medicine cabinet. Adaptogens for the win.
My obsession with adaptogens started a little over a year ago when I ventured into Moon Juice. I'm a sucker for cute packaging, so I swiped them up and began my journey of researching about adaptogens, trying all the different types & brands, and experimenting on my body to see what works best for me.
I'm not biased to one brand. I often buy depending what's on sale at Sprouts or Thrive. Sometimes I buy because I am at Moon Juice or Cafe Gratitude and I want to stock up on goods. Sometimes I decide depending on my current ailment then researching what adaptogen might support me with that.
Here are the brands I currently use and their products I currently use – you can also scroll to the bottom for the 6 main reasons I take adaptogens.
Honestly, I just love Moon Juice's marketing and packaging. I'm also a sucker for travel sized packets because I'm always on the go. I have purchased the complete moon dust collection, and I love them all.
The Moon Juice Dusts have a bit of a sweetener in them – usually a hint of stevia. I just mix them in hot water most days. I also sign up for their email newsletter where they will send along easy drink recipes you can make it home with the dusts.
SUN POTION:
Sun Potion is a little costly, but has been highly recommended by a lot of healthy people on Instagram – so I tried it out. I do love their products, but I typically stick to what I can get on deep discount on
Thrive.com
. I have splurged for some other goods off their site though including the HIBA WOOD essential oil (hella expensive, but my favorite smell in the whole world) and their Shea Butter. Here's what I've bought and love:
Depending on how I feel each day, I select one of the above and throw a scoop into a smoothie or glass of how water.
While at Whole Foods one day, I met a
guy who was knowledgeable
in all things adaptogens and MCT oil. He told me his favorite brands to buy for adaptogens are Four Sigmatic and Host Defense. After his recommendation, I started testing out those brands for myself. I've heard of both before already, I just hadn't tried them yet. The super-smart guy told me that Four Sigmatic is excellent because of the way they harvest their products is of the highest quality. What I do NOT like about Four Sigmatic products is that they do have Stevia in them and I just do not like the sweetness – most people will – but I'd prefer the bitter taste. So if you are new to adaptogens, Four Sigmatics will probably taste the best to you and has a reasonable price point. Here's what I'm diggin:
Lion's Mane (boosts cognitive performance)
Cordyceps – I mix the Cordyceps WITH the Lion's Mane in hot water for the perfect cocktail give me energy and focus. Major focus. I'm pleasantly surprised each time I drink that I notice such immediate results.
Mushroom Coffee – On days where I wake up SOOOOO tired, I dump a package of this in my usual coffee for an extra boost. I always keep one of these in my purse too for when I am traveling – then when I go to Starbucks, or I'm on a plane, I just order hot water and make my coffee. It does indeed taste like coffee.
I'm looking forward to trying out their new Sleep Sticks but haven't had a chance yet!
As mentioned above, I tried out this brand due to the super-smart guy I met at Whole Foods. What I love most about this brand is that many the products are available in a liquid form. I am not a stranger to taking colloidal silver which you hold under your tongue. The reason you hold it under the tongue is that it allows for quick absorption into your system. I will note – when I take the Host Defense supplements under my tongue, it burns!! After a few days though you get used to it and it doesn't burn as badly. If the guy I met at Whole Foods didn't tell me this, I would have immediately stopped taking it, but he assured me it is normal. Their products also come in capsule form if you prefer. I use:
Stamets 7 Extract – Daily Immune Support – I take this daily, obviously
CordyChi – Supports stress & fatigue reduction
I take these in the morning on an empty stomach. Unless an adoption calls out that it will help me fall asleep – I usually consume the extracts in the morning because otherwise, I have a difficult time falling asleep.
Om Mushroom, like Moon Juice, has cute packaging, so I want to try ALL their products. I love that the package calls out exactly what the product will support with. So far, I have only tried one product, and out of all the adaptogens I have tried – this is one where I noticed a huge difference when I stopped taking it for a few weeks.
Om FIT – supports with training, performance, and recovery. I work out 4-7 days a week. Whether I am at the gym working out with my trainer or going for a hike, I'm relatively active on the daily. When I ran out of Om Fit for a few weeks, my body was noticeably much sorer, and my trainer even mentioned I was kind of slacking and not working out as I usually do. Om Fit is one I need to always keep in stock!!
Om Energy – You see this one pictured, but I actually have not tried it yet. I like to carry it in my purse though for the days I'm feeling jet-lagged.
As I try out new products from the brands above or try out new brands, I'll keep you updated. Be sure to follow me on Instagram to see my Instagram Stories – I work into my stories on a regular basis the adaptogens I'm using and how I am using them.
Here are 6 benefits I experienced after adding them into my daily diet:
Disclaimer: I'm not giving medical advice, just speaking from my experience. Be your own guinea pig. Get to know your own beautiful body and what works for you and what doesn't.