You heard me right. Don't touch that "Boost Post" button on Facebook or even that "Promote" button on Instagram. Sure, it feels good in the moments that follow to see some people like your post, maybe even leave a positive comment or two but trust me there are no long-term benefits to this technique. Think of it like this…you're on a diet (I know, it's a lifestyle change) but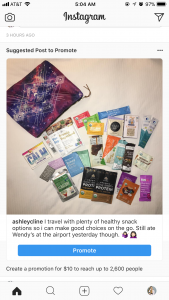 you had a rough day and damnnit you deserve a donut. Maybe it's not even a donut, maybe it's another party favor of your liking – feels good in the moment, but tomorrow isn't going to feel so great.
Have you ever been scrolling through your Instagram or Facebook feed and see your post with a message saying that your post is performing 80% better than your other posts, boost it so more people can see it? Sorry, sweetie. They say that to everyone and about most posts. Resist the temptation.
This tip is timely because Mark Zuckerberg announced that Facebook will be making changes to the newsfeed (and we all know Instagram will follow soon). Due to user feedback, posts from businesses, brands, and media is crowding out the personal moments that lead people to connect. Less public content from businesses, brands, and media will be shown and more meaningful interactions between people will take place instead, according to Zuck. With these changes, Mark also understands that people will spend LESS time on Facebook and the way us current marketers measure engagement is about to change. This shift has been happening for quite a while, so if you want your business to thrive on Facebook – you got to pay to play!

Seeing this decline in organic reach will leave you feeling thirsty but DO NOT become Facebook's low hanging fruit.
Given this decline in organic reach, which you are probably already experiencing, what is one suppose to do if you shouldn't Boost/Promote your content with that so easy-to-use button?
Take a step back. When you boost a post, what is your end goal? Your REAL end goal in terms of a larger marketing plan. Getting more likes feels good, but is it a goal that will actually grow your business and make you money? (answer: no) Awareness and fluffy engagements certainly serve a purpose but be smart where you put your dollars. It would be better for your business to drive people to your website where you could: 1) pixel them to remarket ads back to them later 2) capture their email address with an intriguing offer or even 3) get an actual sale. In MOST cases, it's always best to drive someone to your website where you have more control over the actions they take.
Use Ad Manager. Ad Manager will walk you through setting up an ad given what your desired outcome is. If it is indeed to get more post engagements – go for it, but by at least setting up post engagement ads through Ad Manager instead of hitting that Boost button (currently on Instagram you can only get more post engagements by boosting on the front end through the Promote button – not yet part of ads manager), you are able to set a more strategic campaign and have more control and options to assure you get the best results. Example: Don't assume you know what post will perform. Set up an Engagement ad campaign with 3-5 different posts. After a few days, see which ones get the most engagement and turn off the ads that don't. Ad Manager gives you more control over your budget. Your audience. Your Goals. Your Metrics and more. 
To summarize today's tip: Don't be lazy by hitting the Boost/Promote post. Use Ad Manager and take a more thoughtful approach to how you spend your ad dollars.
*Each day I share a new valuable marketing tip, sign up here to get on my list so you don't miss out: http://eepurl.com/dc9qxf