Get More YouTube Video Views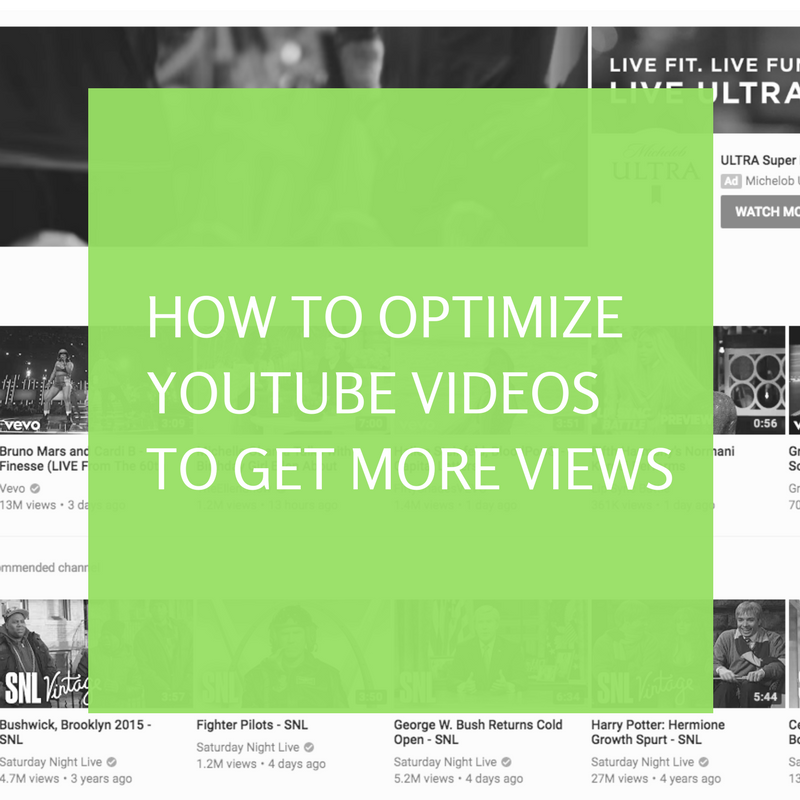 YouTube is the 2nd largest search engine next to Google. The most up to date stat I could find (which is still about two years old) was logging more than 3 billion searches a MONTH on YouTube.
With over 300 hours of video being uploaded every single minute on YouTube, it's vital you do everything you can when optimizing your YouTube videos so they can appear in all those searches taking place. Not to mention, when someone searches on Google (Google owns YouTube) the suggested videos displayed on the search results page are pulled from YouTube.
Here's what you need to do to your videos to assure more video views:
The first 15-30 seconds should entice the viewer to want to watch the entire video. Watch time is the most significant factor that impacts YouTube rankings.
Add essential keywords related to your brand/industry to all video titles. Take a step back and thinking about the main words you want to rank for. or that a viewer may search for. Think about the problem you are solving and the question someone may type into the search bar.
Utilize the entire description copy space available. Include keywords, consider this a mini blog post.
Upload a transcript/subtitle with all videos.
Utilize YouTube End Screens and Cards to drive a viewer's next action, such as subscribing to your channel.
Make sure you utilizing Tags for each video, don't skip that part. Load it up with relevant keywords.