Sticking to any diet is hard … especially if it requires a ton of work to meal prep. That's why I recommend you take advantage of these Whole30 meal delivery options. The food is incredible and the amount of stress it takes off your shoulders? Totally worth it.
You might remember I wrote about my Whole30 journey and how it revolutionized my health and increased my mental clarity and focus.
Well, if so, then you also know it got really hard to stick to the diet once I hit weeks 3 and 4. To be completely honest, I just got really tired of meal prepping. It took hours out of my week. So when I got lazy, I often ended up slapping a piece of chicken on top of some spinach leaves. Which… wasn't nearly as tasty. No wonder I gave up two times before!
Whole30 Meal Delivery Can Keep You on Track
One thing I did that helped me stay faithful to my Whole30 diet for the entire month was stocking my pantry full of Whole30-friendly snacks.
But the other thing I did was use Whole30 meal delivery options I found online. I actually found several that I really liked. Some are subscriptions, but others are more flexible, so you just need to find what works best for you.
The best meal delivery options I found were:
I'll walk you through my personal thoughts about each of these options.
Model Meals
Model Meals is first because it's my absolute favorite. It's great because their food is Paleo- and Whole30-friendly. They also use organic and locally sourced ingredients to make their food.
When ordering your food, you can see the nutrition facts, ingredients, and even how to make it. The delivery people keep you updated via text, and the food is ready to eat as soon as it arrives.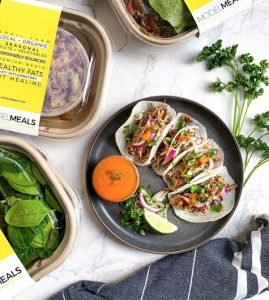 I also have to say, the pricing is pretty good, and the food is tasty. And since they change up their menu every week, you don't get bored!
My favorite thing about Model Meals, though, is the flexibility. Since it's not a subscription service, you can choose how often you want to get them.
Want to try it for yourself? Get $25 off your first order with this link!

Territory Foods
Territory Foods is another great meal delivery service that's compatible with your Whole30 diet. Plus, you can choose between individual-style or family-style. (They have kid-friendly options, which was a life-saver for my two kids!)
The grocery box includes 5 pounds of root veggies, 6 pounds of garden veggies, 4 pounds of fruit, 1 pound of hearty greens, and 1/2 pound of fresh herbs. I think you'll find this box is great for 4 people.
Just like Model Meals, Territory Foods changes up their 35 meal options each week. Meals start at $10 each and are delivered twice a week. You can have them deliver the meals to your local gym for free… or they can bring it to your home for an extra fee.

Another plus is that the subscription is flexible. You can pause or cancel at any time you need!
Use this link to get $25 of your first two orders (that's a $50 discount total 😊 ).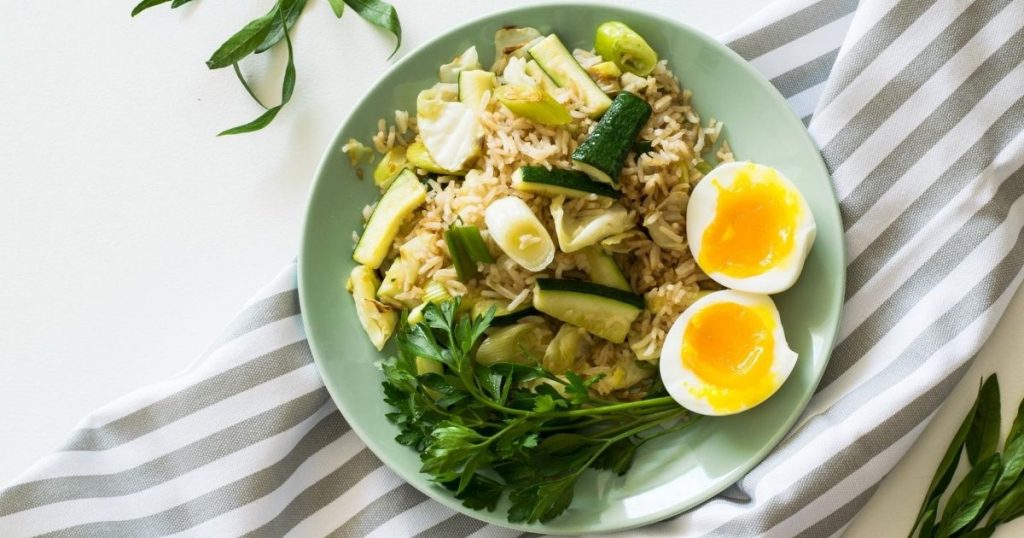 Chipotle
Oh Chipotle… you will always have my heart.
You probably remember me fangirling over Chipotle's many healthy burrito bowl options. Obviously, Chipotle is different than these other meal prepping services because it's actually a restaurant. But since they offer delivery, I still count it as a Whole30 meal delivery option!
Chipotle's menu, depending on what you get, is Whole30-friendly. That includes their chicken, carnitas, fajita veggies, guacamole, and their three salsas.
You can order online and select delivery for an easy meal! 

Paleo on the Go
OK back to the regular Whole30 meal delivery services. Everything here works for Paleo and AIP diets.
You can order either individual items or meal bundles—or you can subscribe to their service and save in the long run.

Each meal is prepared by a chef and delivered straight to your doorstep ready to eat. They have 31 options you can choose from, making the menu diverse and fun.
If you're avoiding certain foods, you can select certain food preferences, such as coconut-free, seafood-free, pork-free, and cassava-free.
Finish Strong With Whole30 Meal Delivery
As you can see, your options aren't limited when it comes to meal prepping and delivery. So instead of tossing some bland chicken on spinach, why not try one of these services?
They're tasty alternatives to hours' worth of meal prepping!