So… you're thinking about going to Vegas, huh? If so, you'll want to know where the best places to eat in Las Vegas are. Sin City can have some of most delectable food, but believe me, not every restaurant is made equal there.
I first went to Vegas when I was 20 years old for a work trip. It was an interesting experience, considering I grew up in small-town Ohio and hadn't seen much outside of that. I couldn't wait to come back when I was 21 to get the full experience. You know?
On my 21st birthday, my friend and I—a fellow small-town Ohio girl—drove to Vegas from Huntington Beach, California, where I had been living for about a year. It should've only taken about four hours. But we were naive to summertime rush hour traffic on a Friday, so our trip lasted eight hours. Nothing can explain the excitement I felt as I saw those bold strip lights from miles away after seeing nothing but desert for several hours.
It was not the best trip—I was 21 years old, broke, and had no idea how to drink alcohol without it leading to a severe hangover.
Fast forward to more than a decade later. Now I'm a frequent Vegas visitor, and I've probably gone over 20 times. Except now, like the big girl I am, I go for speaking engagements I've booked through Vegas' wild conference and tradeshow circuit.
I learned to enjoy more than the occasional binge drinking in Vegas … the Cirque Du Soleil shows, the indulgent spas where all the strippers unwind after a long night of work, fun hotel vibes, the people watching, and most importantly … the food. Damn. The food!
Where to Find the Best Places to Eat in Las Vegas
By far, Vegas has the best dining experiences I've had the pleasure to enjoy—and on client budgets, not my own. (It just tastes better when you're not having to worry how much that bottle of champagne costs or that 24k gold-encrusted dessert).
Houston has come close with some amazing and also bougie dining experiences—but Vegas still has my heart.
Let's just skip right to it, shall we? Here's my list of some of the best places to eat in Las Vegas.
I highly recommend booking a reservation in advance. I use OpenTable because it's easy to see what's available and move things around if needed.
Rose. Rabbit. Lie. at The Cosmopolitan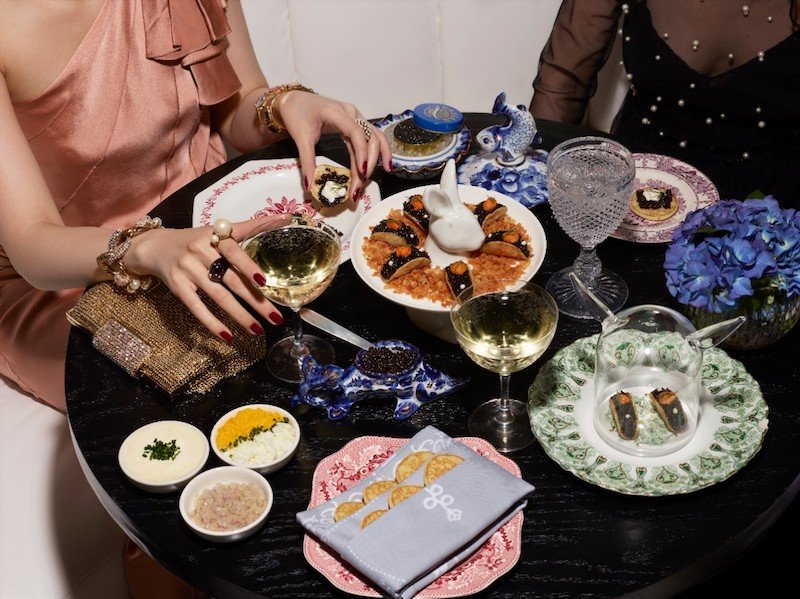 Photo source: Rose. Rabbit. Lie. via Yelp
Looking for the ultimate Vegas dinner experience? Rose. Rabbit. Lie. is your spot. It's a dinner show, but not on a timeslot. There's just a showing happening all around you while you are enjoying your dinner.
It's all about the environment. It's fancy. Eccentric. Weird. Cool. So much to see—from an epic drag queen singing from a piano, a young man with dance moves like you've never seen dancing on top of the table next to you, to a sexy couple steaming up the room with their serenades on stage.
The food is good. Just good. Not mind-blowing, but the presentation of the food is EPIC. The most Instagram-worthy food you could order.
My go-to cocktail while at Rose. Rabit. Lie.: The Affogato Cocktail.
Scarpetta at The Cosmopolitan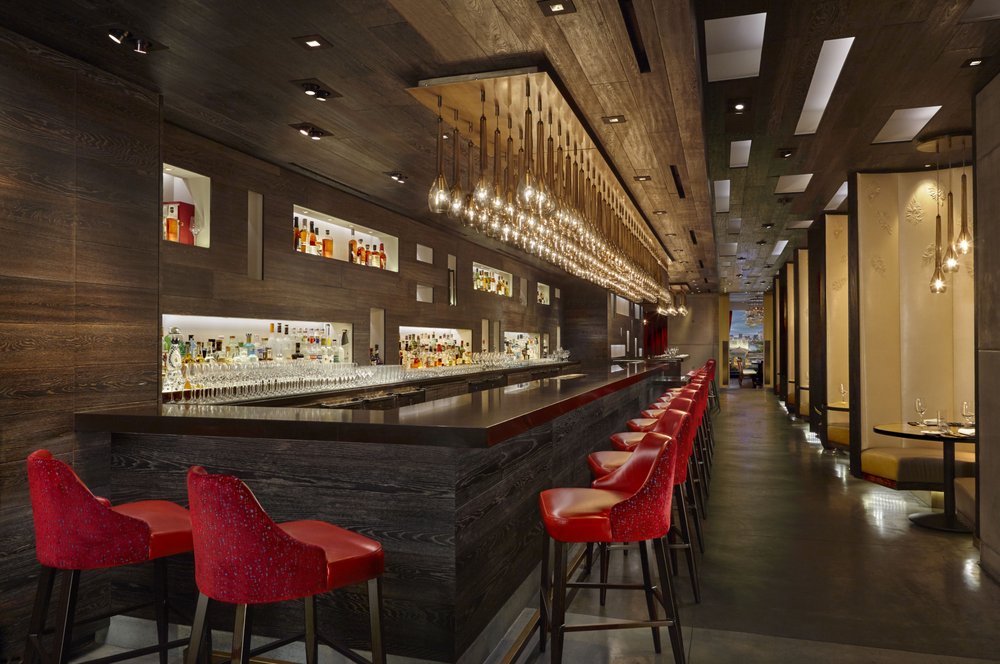 Photo source: Scarpetta via Yelp
As you'll come to see, I love the food at The Cosmopolitan.
If all you care about is finding a delicious meal, look no further. I hate to come all the way to Vegas and eat somewhere I've already eaten before … but I make an exception and often find Scarpetta my go-to place to eat when nothing sounds like it could hit the spot.
It's a romantic vibe—although I've only ever eaten there with my soul sister, Jami, who I know shares the same sentiment about Scarpetta and all the restaurants I'm writing about. We usually call ahead and request a table that overlooks the Bellagio fountain.
I'm going to tell you exactly what to order so you don't even need to look at the menu. You HAVE to get the Short Rib Pasta. HAVE TO. This alone is enough to make it one of the best places to eat in Las Vegas
If they are sold out for the night, leave and come back the next night. Grab yourself a couple of bottles of red wine and two orders of the short rib pasta because it's licking-your-plate good.
I'm not joking. If you only order one plate, you will be disappointed that you didn't get two.
The Chandelier Bar at The Cosmopolitan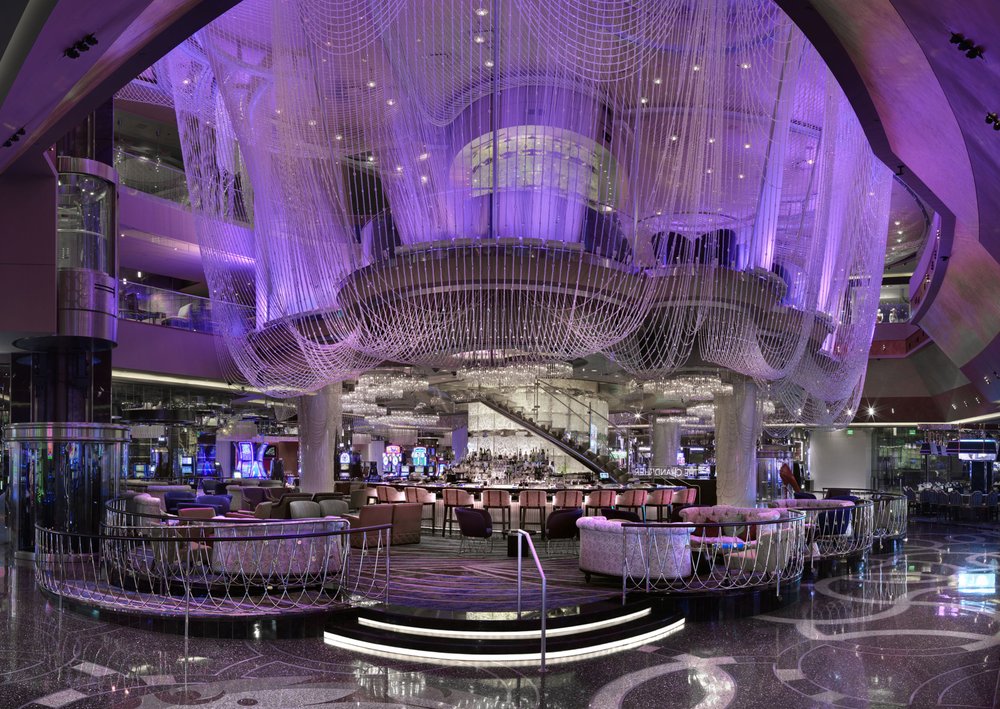 Photo source: The Chandelier via Yelp
Not a place for dinner, but The Chandelier the perfect place to stop before dinner for a cocktail, then for a nightcap. It's a cool vibe because you are literally inside of a big chandelier. Go to floor 1.5 or 2 for your drink.
There's one drink you must try.
Now, most people are hesitant to indulge in this cocktail after I tell them about it. It takes some serious convincing on my end to get someone to just try. I swear I'm not usually that peer-pressure friend, but damnit, try the drink. Live a little. Create some stories to tell when you leave Vegas.
The drink is called We're All Mad Here. It's got Alice in Wonderland vibes. When the drink is delivered, it's blue, but as you mix it a little bit, it turns colors.
But that isn't even the coolest part. It's served with an edible flower. (Not that kind of flower.) Take a few sips of the drink first, then eat the flower.
The flower will make your entire mouth tingly and weird. Majorly tingly and weird. That's the best I can do to describe it. Then, try your drink again. Your taste buds will totally transform and the drink will take on a completely new flavor.
When you order it, the cocktail waitress will warn you and walk you through how to enjoy the drink! After trying this drink, I was convinced The Chandelier was one of the best places to eat in Las Vegas
Sake Rok at T-Mobile Arena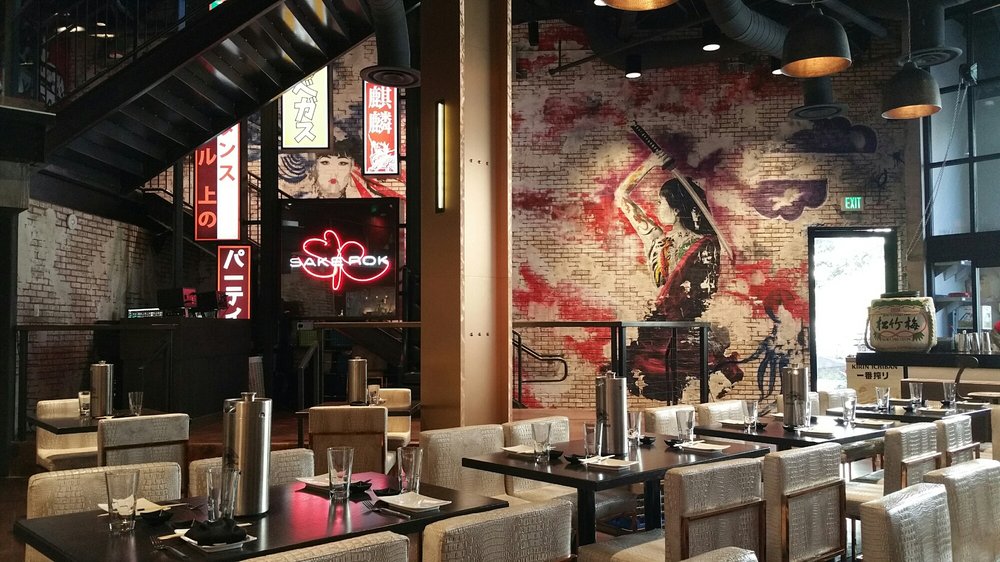 Photo source: Karen K. via Yelp
Let's step away from the Cosmopolitan for a brief moment. Sake Rok is another dinner show environment that you'll enjoy more after 8:00 pm. A 10:00 pm reservation would be perfect to get a full experience.
The entire staff is fully trained to spontaneously bust out in 90s music dance-off competitions—all of them. Together. At the same time. Everyone is encouraged to dance and sing along.
Before the N'SYNC and Backstreet Boys throwdown pops off, the most fabulous DRAG QUEEN GEISHA is making rounds at every table teaching you to do sake bombs. If you think you're a pro already, just follow along—you're sure to learn something. Once you're trained, the entire table (geisha included) all cheers loudly, pounds on the tables, and throws it back. A few rounds of these, and you'll be leading "Bye Bye Bye" dance moves on top of your table.
Obviously I suggest ordering sake bombs and partaking in that fun. For food, my favorite is the Hot Stone. Which is, indeed, a hot stone brought to your table with a side of nice juicy raw meat, veggies, and sauces.
I know some people are totally put off by cooking their own food at a restaurant, but it's delicious and adds to the experience. Imagine … you're totally sauced from sake bombs while trying to sear your own veggies. 😜
Yellowtail at The Bellagio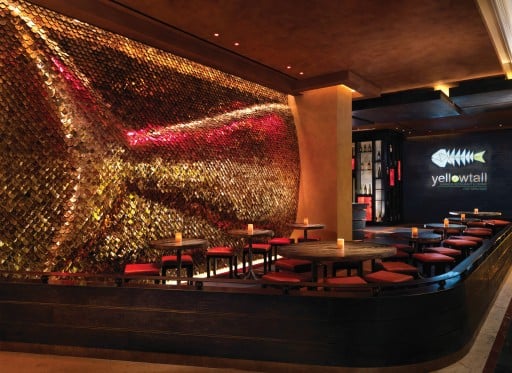 Photo source: Chef Akira Back via Yelp
I first ate at Yellowtail in 2009 … and it's still a trusted favorite over a decade later. In my opinion, it has the BEST Bellagio fountain views while eating, making it one of the best places to eat in Las Vegas.
Make your reservation early, and be sure to call ahead and request a table close to the fountains. If my memory serves me, you can basically sit on a patio on the water of the fountain.
The menu always has a unique offering to satisfy your taste buds. One thing I ate that has always stuck out to me as a fun culinary experience was a sashimi pizza with pop rocks infused in it. And don't forget sake served out of bamboo sticks!
Zuma at The Cosmopolitan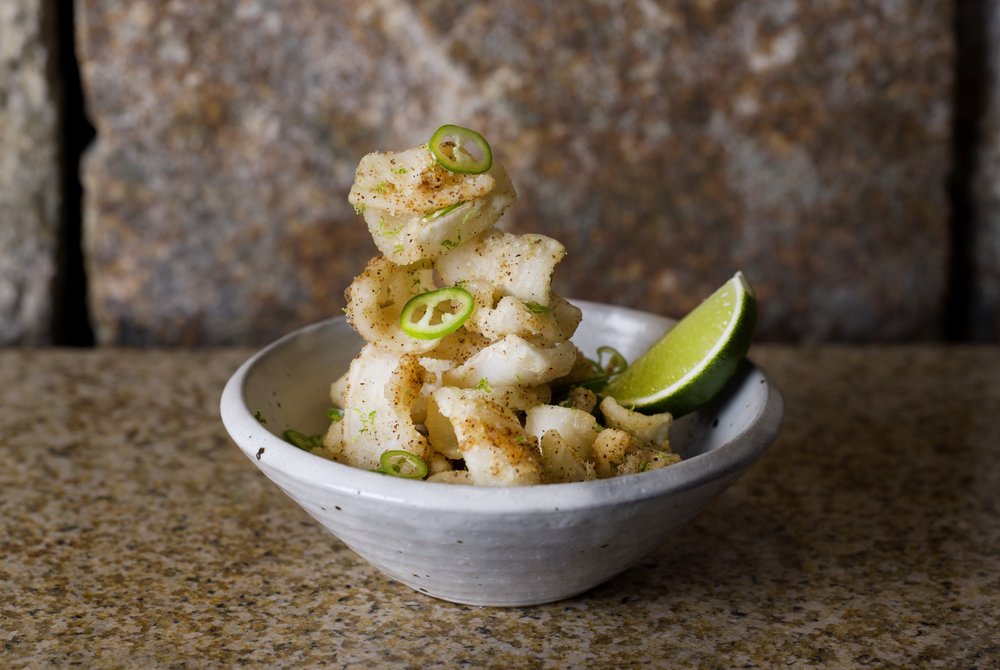 Photo source: Zuma via Yelp
Follow me back over to The Cosmopolitan because we ain't finished there.
I was not expecting this place to be as delicious as it was. The last time I went to Zuma, I got some lobster smothered butter and dessert was perfect—a giant basket of fruit and sorbet.
The menu fuses American and Japanese foods together in a unique way. Order several plates to share with everyone at your table!
Eggslut at The Cosmopolitan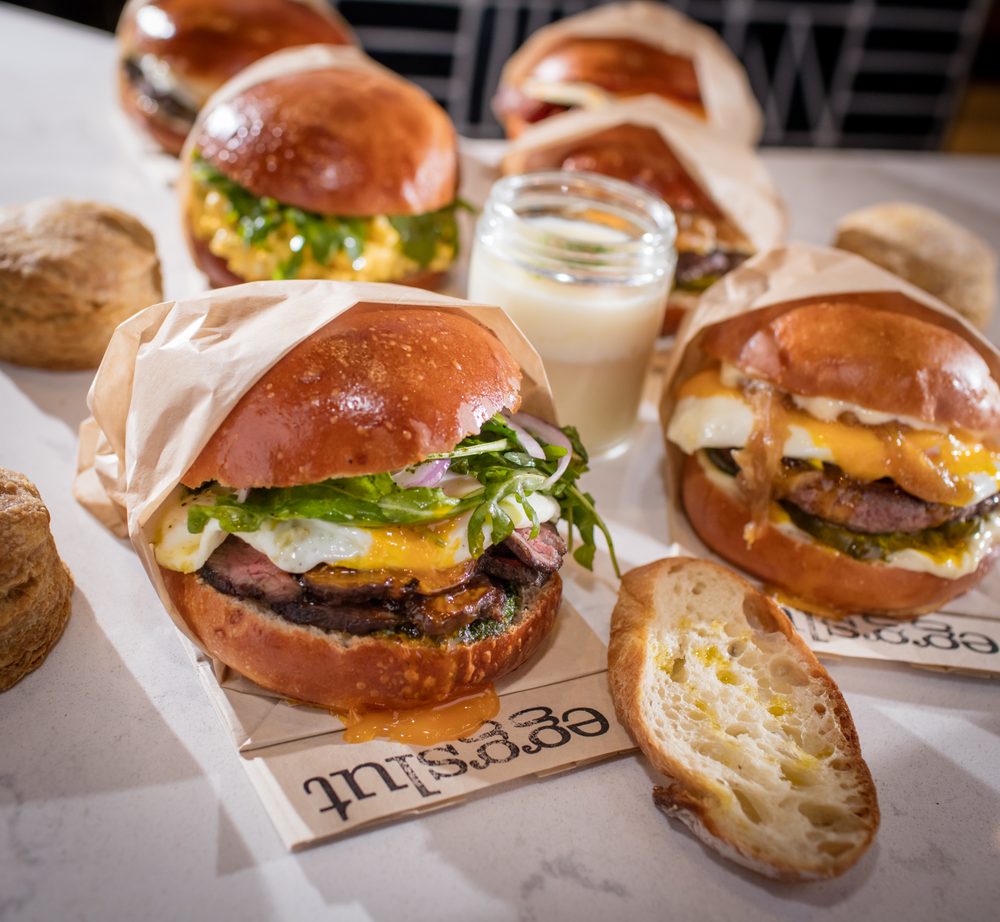 Photo source: Eggslut via Yelp
This is the perfect hangover breakfast.
I don't even really love eggs. So when I went to Eggslut the first time, I wasn't going to order anything. But as soon as I saw my gal pal's cheesy egg breakfast sandwich in all its glory, I had to get one.
Really though, I bought it for the picture op.
Secret Pizza at The Cosmopolitan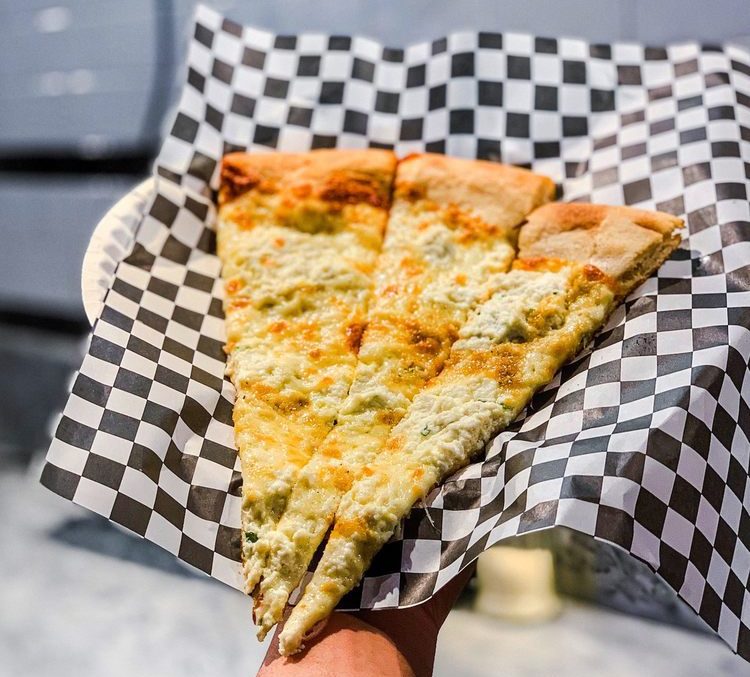 Photo source: Janelle L. via Yelp
It's called Secret Pizza for a reason.
There's no signage, and it's easy to miss. You have to sort of walk down a secret hallway on the third floor of the one and only … Cosmo.
The secret hallways are lined with album covers from some of Las Vegas' finest patrons like Frank Sinatra. It's open until about 5:00 am on most nights, and it's the perfect place to hit up right before you go to bed … to soak up all the alcohol, you know?
Last time we were in Vegas, I couldn't bear another minute in my heels and decided to skip while friends went ahead without me. In the morning, they told me Mark Cuban was hanging out there!
It's a little joint—only with a few high-top tables to stand while you eat your New York-style slice of pizza.
Holsteins at The Cosmopolitan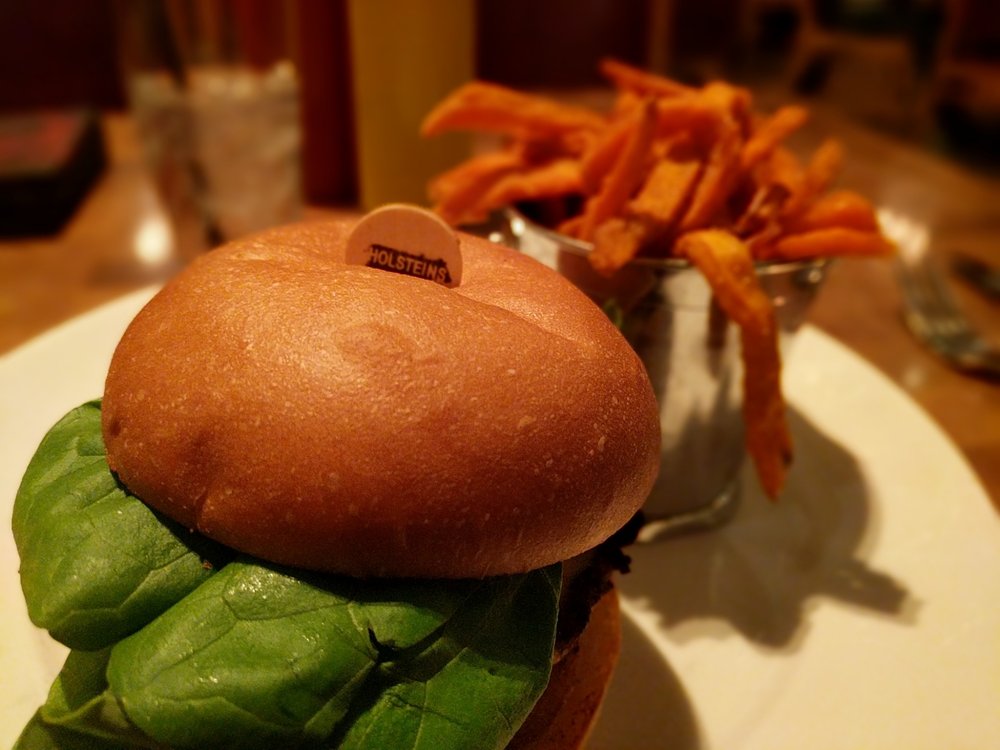 Photo Source: Oscar L. via Yelp
Forever a spot in my heart.
My friend Jami and I did countless speaking engagements at Aria, and our first stop (once we dropped our bags off in our room) was to walk over to Holsteins for a beer and their buffalo chicken dip.
If you get only one thing at Holsteins, make it the buffalo chicken dip. I'm a huge fan of the buffalo chicken dip. Which is unsurprising, since all the best places to eat in Las Vegas have at least one dish that makes me go ga-ga.
Holsteins a hip little spot most notable known for its crazy milkshake concoctions spiked with alcohol. Which sounds downright disturbing to me, but if that's your thing, I'd bet they're delicious.
Beauty and Essex at The Cosmopolitan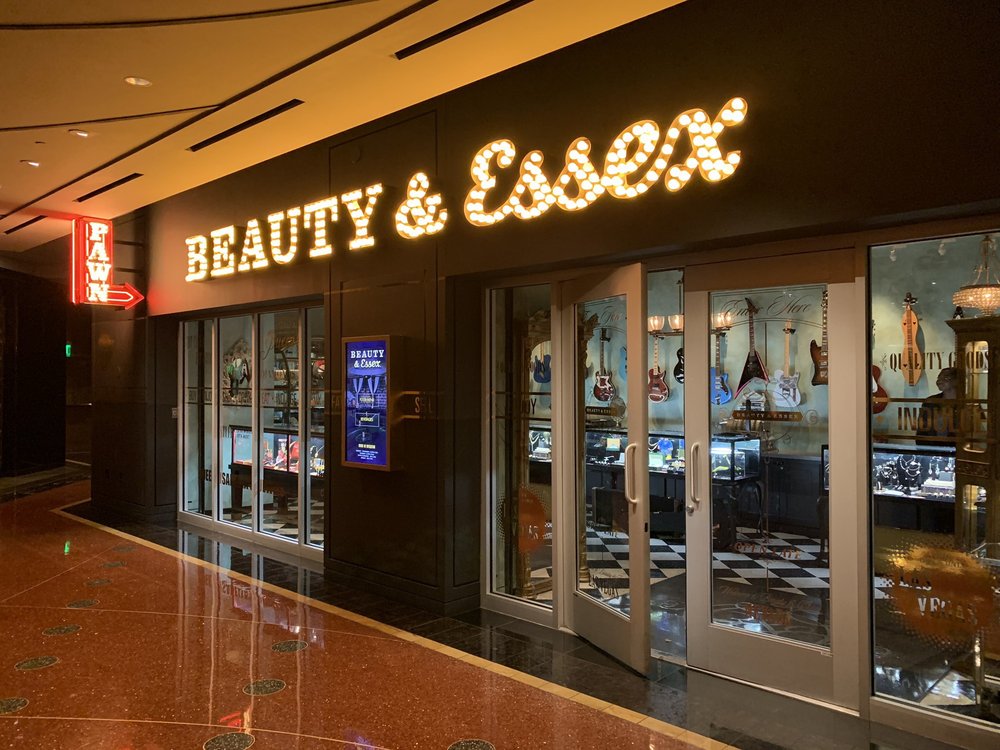 Photo source: Sara S. via Yelp
The front of this restaurant can fool you if you're just passing by. The front is a literal pawn shop. Enter the pawn shop, and a hostess will bring you into the restaurant.
The upscale pawn shop theme plays out in the décor throughout the entire restaurant. I've eaten there a few times. The food is good and the vibe is neat. It's dark, with jewelry hanging everywhere, and it's loud.
If you plan to have intimate conversations, this isn't the place. Although, one time when I went, we had a private room for a large group and that wasn't terribly loud. So I guess it depends on where you sit!
There's a location in New York City that my friends rave about. They say the Las Vegas experience just isn't the same. Nonetheless, ignorance is bliss in this case. I enjoyed myself and the food.
Sadelle's Cafe at The Bellagio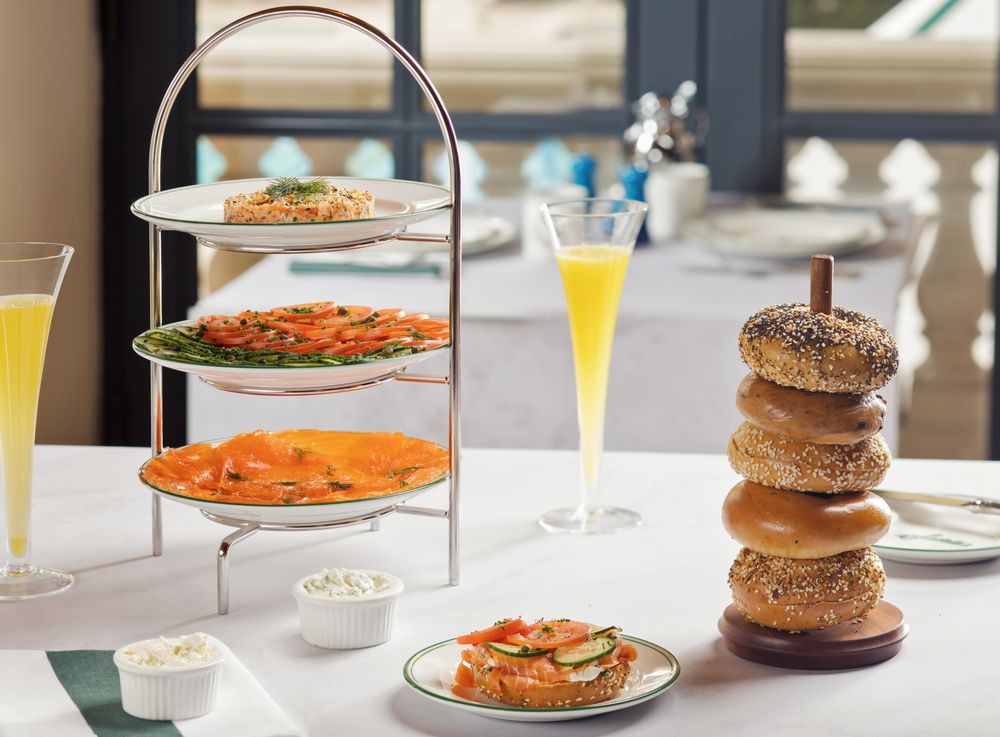 Photo Source: Sadelle's via Yelp
If you're sick of the Cosmo, let's venture out. Sadelle's is a perfect spot for a nice little outdoor brunch.
Eggs benedict for the win. I suppose if you eat Lox, their tower could be appetizing. But gross … I don't like salmon or red onion.
R.I.P. BarMasa at Aria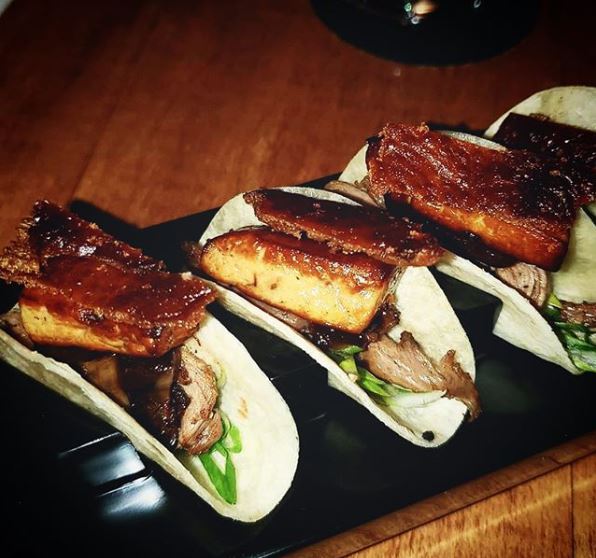 Photo Source: BarMasa via Instagram
This restaurant closed in 2018, so why even mention it if they are no longer there?
Well, just in case … if you hear about Chef Masa opening a new restaurant anywhere in Vegas, you should definitely go. BarMasa had these amazing duck tacos. This place had me venture out and eat all kinds of foods that I wouldn't typically order—like duck tacos. And I always enjoyed everything.
While researching if there were any new restaurants by him in Vegas, I found out he has some in NYC. BRB, folks.
Honorable Mentions for Best Places to Eat in Las Vegas
I swear, I do try to venture outside of The Cosmopolitan for Food but they do such a damn good job at curating delicious and eclectic vibes for culinary experiences. Have I eaten at other places besides what I mentioned here? Yes, of course. But I wanted to share the ones I think are worth it to go out of your way (if you're not staying at The Cosmopolitan) or splurging your Let It Ride winnings on.
A few places in Vegas you might like that I haven't visited (but that I frequent in SoCal) are: Pressed Juicery (go in the morning and ask for everything to cure that hangover quickly), Javiers, and Crack Shack.
STK Steakhouse isn't one of the best places to eat in Las Vegas, but it at least deserves an honorable mention … although I may have been too far gone to remember how much I enjoyed my food. But I remember I definitely wasn't disappointed.
Just make sure you SKIP Le Cirque at Bellagio. Maybe I just discovered I do not like French cuisine. But I was so bummed when I ate there because it was hella expensive and I didn't like anything!
Got any other amazing restaurant experiences in Vegas that I didn't list here? Share in the comments below!