Marketing events doesn't have to be a scary process. But it will be if you don't know what you're doing!
The worst thing you can do when marketing events is wasting your budget and time because you weren't utilizing best practices.
I've marketed events for plenty of clients, including Fortune 500 companies that gave me a multi-million-dollar budget for marketing! This experience taught me exactly what strategies, tools, and tactics work best when marketing for events.
Eager to learn? Watch my video to get the most out of this in-depth training on event marketing. Or you can fast-forward to the time stamps I provide throughout this article to learn more about a particular subject!
Marketing Events: Social Content Efficiency
Before you start marketing events on social media, you need to have a strategy in place.
I've found that there are four types of social media content you need to have for an effective strategy. Those types of content are: Empower, Exhibit, Educate, and Entertain.
Let's look at each one!
Empower Content (8:23)
This content is supposed to embody authority and confidence. It should ignite someone else's fire, motivate them, and encourage them to claim their own power and gift.
You can also make this content thought-provoking, philosophical, and inspirational.
Remember that people often have memories tied to events—whether those memories are tender or exciting. Use Empower content to play up this "memory-making" aspect in your marketing.
Will attendees make memories with family at your event? Will they commemorate a loved one? Will they accomplish something difficult?
Exhibit Content (10:13)
This content should really showcase who you are and what your event is. That could include highlights of your event, who your speakers or performers are, who the leaders are, and so on.
Your brand story and personal story (depending on what kind of event you're promoting) should really shine here. That's what builds that human connection.
While you're showcasing your event, be sure to incorporate a healthy amount of FOMO. 😉
Also, take this opportunity also to really focus on the attendees. Who are they? What's their story? Why are they coming to your event?
Educate Content (12:08)
Educational content is especially important in marketing events on social media. After all, it shows that you are the expert in your niche.
This type of content provides actionable advice. It's not vague. It's proven. Matter-of-fact. It's the "Do this and get this result" kind of content.
This can include:
How-to's
Step-by-step information
Blueprints
Action plans
For instance, if you're promoting a circus, you can offer a checklist for how to make the best memories with your kids at the event.
Entertain Content (14:43)
Of course, don't forget your entertaining content! We're all humans behind the screen, so make sure you make space to create content that's just fun.
Be yourself, and be goofy. Do fun challenges, show bloopers or behind-the-scenes, host a challenge, or post memes.
TikTok is a great way to incorporate the fun content into your social media strategy.
How to Create Content When Marketing Events (16:20)
So now that you know what to create, how do you actually go about coming up with specific ideas for content?
I have a few tips for you. First, keep a document open that you fill with your ideas as they come. Take screenshots of content you like and make sure you pay attention to what's trending.
Also be sure to listen to what your community is telling you. You can either ask them directly, or you can look at your top-performing content over the past 90 days. This is a good indicator of what your audience enjoys.
Go to 22:43 to see an example of how to set up your content calendar with the 4 types of content.
Also, just a tip for you: The Empower and Entertain content will get you the most engagement, so I recommend plugging those into your content calendar the most!
And make sure you account for holidays when you're creating your content calendar.
Batch Your Content Creation and Scheduling (25:16)
Content batching isn't necessarily a revolutionary idea, of course. But you'd be surprised how many people don't batch their social media content.
Some people choose to create their social content day by day. But this will consume a so much more of your time. I promise.
To batch, just block out a half-day every single week or a full day bi-weekly. Take that time to just work on creating social content.
First, write out all the copy you need for socials that week. Then start choosing images and graphics to go with it. Lastly, schedule out all your content for the week. And you're done!
For scheduling (28:20), I recommend using SproutSocial. I like this tool because it lets you add a bunch of different platforms. The only one it's missing is Pinterest, but you can use another tool for that.
SproutSocial has fantastic reporting and insights, making it easier to optimize your content.
How to Optimize Your Social Media Content (29:10)
Each week, look at your social media insights. Examine the three highest-performing posts and ask yourself: "What are the common threads with these three posts?"
Did you use a certain type of image? Did add a certain flair to your copy? Do the posts have hashtags in common? Are you tagging certain people?
Then examine your three lowest-performing posts. What are the common threads with those?
Make sure you also analyze the times of day you post.
Marketing Events: Set Yourself Up for Success (33:22)
One of the best ways to set your event up for success is by optimizing your social media profiles.
For Instagram, make sure you choose a username or profile name that has search benefits. For instance, my events marketing Instagram handle is @howtomarketmyevent and my name is "How to Market Your Event."
Then, ensure that your bio clearly and concisely tells people what they get out of following you. End with a clear call to action (CTA) and provide a link that corresponds to that CTA. (Linktr.ee is great for putting multiple links in one.)
Here's an example: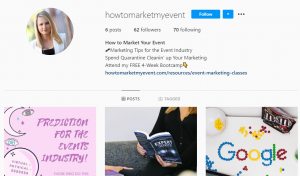 To make sure you're getting the most reach and engagement possible, you must consider timing and engagement.
What time you post and on what day of the week does matter. That's why you need to pay close attention to your social media insights! In general, the optimal times to post are first thing in the morning, lunchtime, and at the end of the day.
Regarding engagement, be sure to respond to every comment you get on your posts. This helps people feel more connected to you, plus social media platforms like it when you interact with your followers.
Remember that Facebook and Instagram consider direct messages as the highest form of engagement, so make sure you regularly tell people to DM you in your posts.
Go to 56:40 to learn how to increase your organic reach with Instagram stories! (Hint: you'll want to start using in-app features…)
Review Marketing (1:02:30)
But social media alone won't be enough when you're marketing events. You also need reviews.
Why? Because reviews support your search engine optimization (SEO). So the more reviews you have, the more you'll organically show up in search engine results.
Reviews also provide social proof (trust) to help drive sales to your event.
Think about it. When you are considering attending an event, what's the first thing you do? If you're like most consumers, you check out the reviews! According to Qualtrics, 82% of consumers read a product review before they purchase an online item.
Unfortunately, bad reviews can damage your standing with search engines and sites like Facebook. How do you mitigate that? Communication! If you have to cancel your event, make sure you communicate that to attendees clearly and give refunds.
With that in mind, realize that you'll always get negative reviews when you're marketing events. But you can use them as valuable feedback. As unpleasant as bad reviews are, they're valuable insights into what you can improve.
Got to 1:06:20 to learn how to get more positive reviews on your event.
And there you have it! Take advantage of the valuable insights in the in-depth training as you use social media and reviews for marketing events!